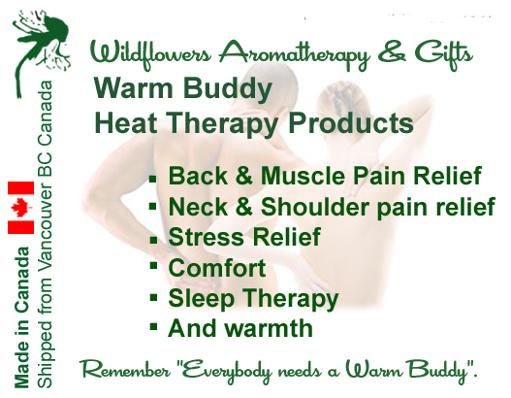 Aches and pains relieved fast
This luxurious weighted warming blanket is used by the finest Spa's to provide comfort and enhance all spa treatments. Use at home for warming beds or the relief of aches, pain and stress.
This heat wrap's extra large coverage (15″ X 18″) is the largest that we offer and perfect for assisting in the relief of pain and stress. Cover is 100% machine washable. To warm in microwave fold the Warming Blanket in four to allow even heating on the turn table. Washable covers are available in a variety of elegant colours.
Calming and soothing
Superior heat therapy
Stress relieving
Aids with sensory disorder
Improved sleep quality
Stress relief
Relieves aches and pains
Dental anxiety
Made in Canada
Why does heat help with pain?
This process increases the flow of oxygen and nutrients to the muscles, helping to heal the damaged tissue. Heat stimulates the sensory receptors in the skin, which means that applying heat to the lower back will decrease transmissions of pain signals to the brain and partially relieve the discomfort.
Soothe Tension with Heat Therapy
Providing warm moistpenetrating relief to affected areas, heat helps to stimulate the afflicted muscle and surrounding tissue to speed along the recovery process. In addition, it helps to relax muscle spasms and provide warm, healing comfort.
Comment from a long serving customer
"I can tell you this almost for sure and that is, as long as you guys continue making these best ever heat packs I will continue to order them. I am a paraplegic with a lot of nerve pain and spasms that can be unbearable but at least with your heat packs I get some relief. On top of that I have two forms of sleep apnea and must go on a servo ventilator at night so I'm going to try your new sleep set!! Thanks! It's that old personal touch that you add like my dad had in his drug stores. I didn't think it was possible but your fast personal replies are giving me reason to believe that the internet doesn't have to be without the "older" fashioned " personal approach. Keep up the good work!!
Sincerely, M D. (London Ontario Canada)
Stress & anxiety relief naturally
The Ultra Shoulder Wrap has a perfect combination of moist heat, aromatherapy and acupressure to provide relief from aches pain and stress. This heat wrap contains our signature anti-stress aromatherapy blend of lavender, peppermint, eucalyptus, cloves and rosemary.
Used by massage therapists and spa practitioners for relaxation and therapeutic effects. Excellent for home and office use. Bring the spa experience home with you! Makes an excellent stress relieving gift. Surface wash covers.
Warm Buddy Company has been manufacturing high quality, long heat holding therapy products since 1995. Our Shoulder Wraps have undergone extensive product testing and are sold as Class 1 Medical Devices. This product has an impeccable 20 year safety record. An Ultra Shoulder Wrap should last for many years with proper care.
Made in Canada

Why use heat for neck pain relief..see here
Use for work or at home
Wear your Warm Buddy heating pad around the house, at work if you have a crick in the neck while using the computer or driving to work, perfect to reduce stress and get those knots out of your neck, shoulder and your lower neck.
Approved medical device
This Warm Buddy shoulder wrap is an approved medical device to help relieve neck & shoulder pain, pains and stress.
Dental anxiety:
Dentists use our heating pad to help patients relieve stress caused by dental anxiety with dental treatment. If your dentist doesn't use one maybe you should suggest they start making visits less stressful.
Worksafe BC incorporated the use of our Ultra Shoulder wraps for their employees to use to relieve stress or tension at work.
Emma Chritensen their corporate ergonomist found that individuals using the wraps had a more relaxed posture while working at their workstations, their shoulders were lower, not hunched up around the ears and productivity increased.
This all natural stress relief wrap penetrates deep into muscles to dissolve stress and soothe aches, moist heat therapy can even help diminish tension headaches.
Warm and Cold Therapy
For both these therapies it is always handy to have 2 heat packs available for immediate applications , one for warmth and the other to keep in the freezer for cold therapy applications..
How Heat Therapy Works
Many episodes of lower back muscle strain result from strains and over-exertions, creating tension in the muscles and soft tissues around the lower spine. As a result, this restricts proper circulation and sends pain signals to the brain.
Muscle spasm in the lower back can create sensations that may range from mild discomfort to excruciating lower back pain. Heat therapy can help relieve pain from the muscle spasm and related tightness and lower back pain relief.
Using one of our heat packs will help you relieve lower backpain and muscle tension.
Heat therapy application can help provide lower back pain relief through several mechanisms:
Heat therapy dilates the blood vessels of the muscles surrounding the lumbar spine. This process increases the flow of oxygen and nutrients to the muscles, helping to heal the damaged tissue.
Heat stimulates the sensory receptors in the skin, which means that applying heat to the lower back will decrease transmissions of pain signals to the brain and partially relieve the discomfort.
Heat application facilitates stretching the soft tissues around the spine, including muscles, connective tissue, and adhesion's. Consequently, with heat therapy, there will be a decrease in stiffness as well as injury, with an increase in flexibility and overall feeling of comfort. Flexibility is very important for a healthy back.
How cold therapy Works to Relieve Pain
Cold therapy can help provide relief for back pain in a number of ways:
Keep a Warm Buddy heat pack in your freezer for these applications:
Cold therapy application slows the inflammation and swelling that occurs after injury. Most back pain is accompanied by some type of inflammation, and addressing the inflammation helps reduce the pain
Cold therapy numbs sore tissues (providing pain relief similar to a local anesthetic)
Cold therapy application slows the nerve impulses in the area, which interrupts the pain-spasm reaction between the nerves
Cold therapy decreases tissue damage
The massage adds the beneficial effects of gentle manipulation of the soft tissues
Cold therapy is most effective if it is applied as soon as possible after the injury occurs, usually within 24 to 48 hours. The cold makes the veins in the tissues contract, reducing circulation. Once the cold is removed, the veins overcompensate and dilate and blood rushes into the area. The infusion of blood in the area brings with it the necessary nutrients to help the injured back muscles, ligaments and tendons to heal.
Therapies on how to treat lower back pain
Warm therapy for aches and pains
Cold therapy for fresh injuries and swelling
All our prices are shown in Canadian Dollars (CAD$)
All checkout transactions will be made in Canadian Dollars (CAD$) & converted to your local currency by your bank.
Warm Buddy make the best heat packs for relieving back pain and stress
Warm Buddy Company creates products that promote relaxation and provide natural relief from aches, pains and stress. They have been following this philosophy since 1995, while creating their world famous aromatherapy heat wraps, heat packs, eye pillows and the original warm up plush animals.

Warm Buddy rejuvenating heat therapy products have become recognized for their superior quality and long heat holding ability. Warm Buddy heat wraps and heat packs are safe, easy to use and highly effective , also available in unscented. Simply heat in the microwave or cool in the freezer as desired.

All Warm Buddy heat therapy products are proudly made in Canada.